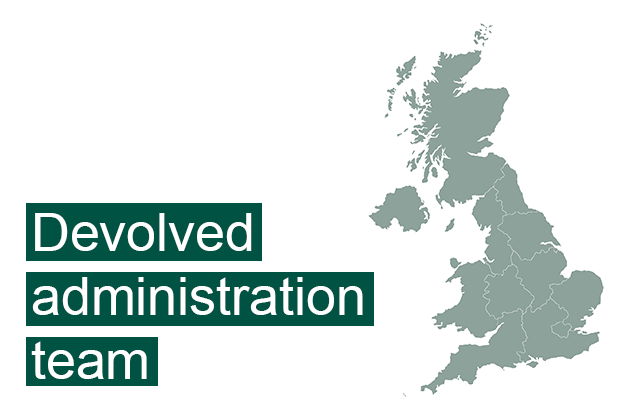 Jon Boyce leads our team of export finance managers covering the devolved regions, supporting businesses to take full advantage of export opportunities all over the world.
UK Export Finance (UKEF) works with private credit insurers and lenders to help companies access export finance, and are ready to support you to seek out and take advantage of export opportunities. In my work, I see the strengths of the innovative businesses in Northern Ireland, Scotland and Wales every day.  I thought I'd take this opportunity to highlight some of my team's recent success stories – real-life examples of how our support has made a difference.
Supporting the Scottish energy sector
I'm based in Glasgow and share responsibility for covering Scotland with two of my colleagues. Glasgow-based firm PCT Group, which manufactures specialist equipment for the energy sector, won a contract with Samsung Heavy Industries worth US$5.46 million. However, their bank required a cash deposit in return for performance and warranty bonds, tying up the cash flow required to fulfil the contract.
Carol Harvey, our export finance manager for Western Scotland, Highlands & Islands and Aberdeenshire, worked with PCT Group to ensure they could take on the contract with confidence. By providing Clydesdale with guarantees on the bonds issued to Samsung, PCT Group did not have to provide a cash deposit and were able to fulfil the order by maintaining cash flow. In addition, Clydesdale provided PCT Group with a working capital loan guaranteed by UKEF and the UK government – a first for the bank.
Working capital helps Northern Ireland manufacturer
The manufacturing process for Terminator Breaker is lengthy and expensive. The company makes mechanical rock extractors for use in mining quarries and civil engineering with payment often only due on delivery. Winning two contracts in Algeria and India was a cause for celebration, but it also brought cash flow challenges.
Elizabeth McCrory, our export finance manager for Northern Ireland, worked with Terminator Breaker and Danske Bank to provide a working capital solution. This gave the business the finance it needed to deliver both contracts up front. Terminator Breaker is now exploring the possibility of moving more of its operations and manufacturing to Northern Ireland from its other base in Belgium. It's great to hear that this decision is motivated in part by a desire to work more closely with UKEF!
Welsh firm takes first steps into new market
Caerphilly-based Hobbs Valve secured a £2.2 million contract to supply valves to Sembcorp Industries Singapore. The overseas buyer required a 3-year warranty bond for 30% of the contract value. Banks can offer these performance bonds but only within agreed limits so when an exporter wins a large order these limits can be put under pressure.
Our export finance manager for Wales worked with Hobbs Valve and their bank to secure the contract. We agreed to guarantee 80% of the bond, sharing the risk with HSBC. This partnership between bank and government enabled Hobbs Valve to take its first steps into a new market, and start a valuable new customer relationship with Sembcorp.
Get in touch
All our export finance managers provide free and impartial consultations, making sure you get the appropriate support and exploring how to bridge any gaps. If you've been inspired by any of these stories – or just want to find out more about the work that we do – get in touch with your local export finance manager or contact our customer service team. Our support can really give you the exporting edge.